PLAN YOUR VISIT TO THE DRIVE
1. Areas and opening hours
2. How to find us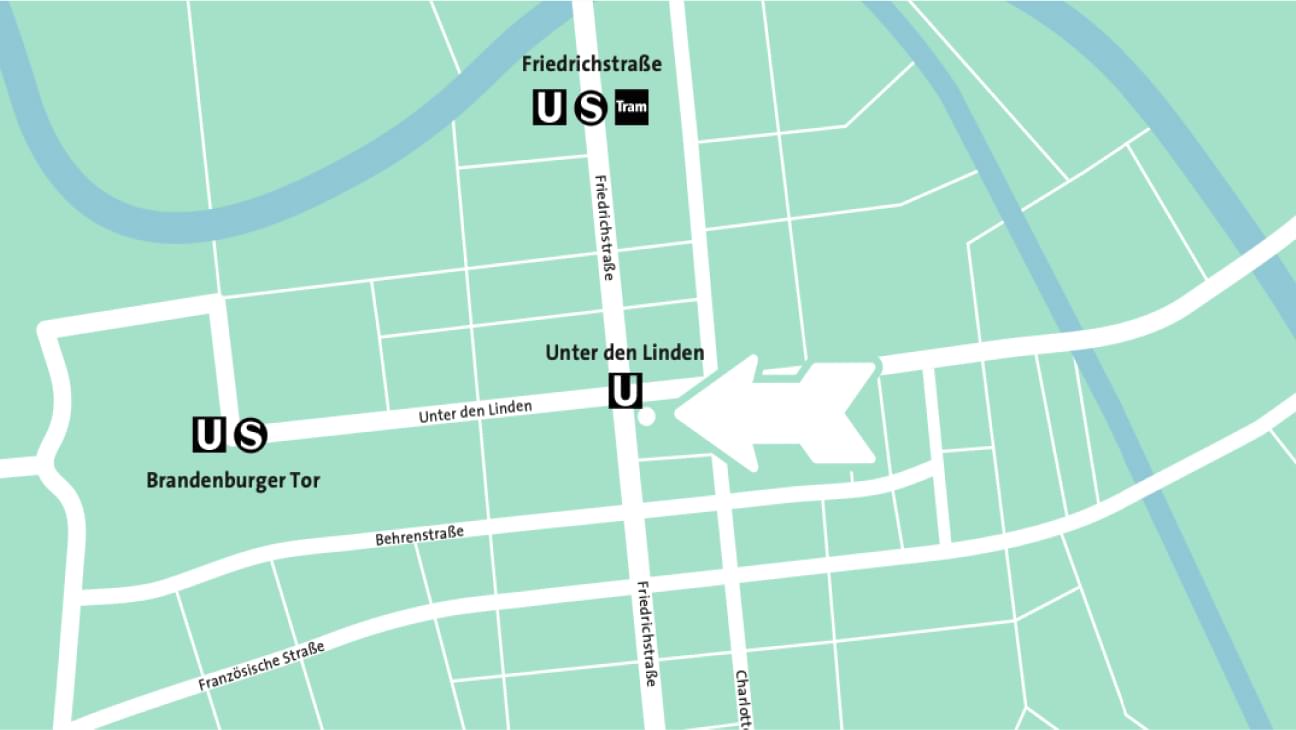 DRIVE. Volkswagen Group Forum – in the heart of Berlin
DRIVE. Volkswagen Group Forum
Friedrichstrasse 84 / Corner Unter den Linden
10117 Berlin
The DRIVE. Volkswagen Group Forum is situated at the corner of Friedrichstrasse and Unter den Linden, just a few minutes walk from the Brandenburg Gate, Checkpoint Charlie and Alexanderplatz. You will find the main entrance at Friedrichstrasse 84.
Directions for Download:
Visitor information
Accessibility
Our entrances on the Friedrichstrasse and on the Boulevard Unter den Linden offer easy of access for wheelchair users. There are lifts on the ground floor that connect all levels of the DRIVE

Accessing the conference area
Entrance to our meeting and conference area is via Boulevard Unter den Linden 21 a. This is only a few metres from the entrance to the Lindencorso, which is located closer to Charlottenstrasse. The conference rooms can be accessed simply by taking the stairs to the first floor. The stairs and lifts to our conference area can also be accessed via our exhibition area

How to get here by public transport
In Berlin's central Mitte district, the quickest and easiest way is with public transport. You have the choice of U-Bahn (underground railway), S-Bahn (suburban railway) and bus services. U-Bahn and S-Bahn: 1 minute from Unter den Linden station (U5, U6), 5 minutes from the Friedrichstrasse (S1, S2, S25, S26, S3, S5, S7, S9 and U6) and Brandenburger Tor (S1, S2, S25, S26 and U5) stations. Bus: the buses 100, 147 and 300 stop right in front of the door at the Friedrichstrasse / Unter den Linden bus stop. Tram: 5 minutes from Friedrichstrasse station (M1 and M12).

With your own car to the DRIVE
The entrance to the car park is located in Rosmarinstrasse (behind the Lindencorso, first entrance). This can only be accessed via Charlottenstrasse. As parking is limited, the car park may only be used following prior notification for guests attending conferences and meetings. Please use the lift to access the first floor from the car park.

3. What awaits you
Discover the diverse world of the DRIVE. Volkswagen Group Forum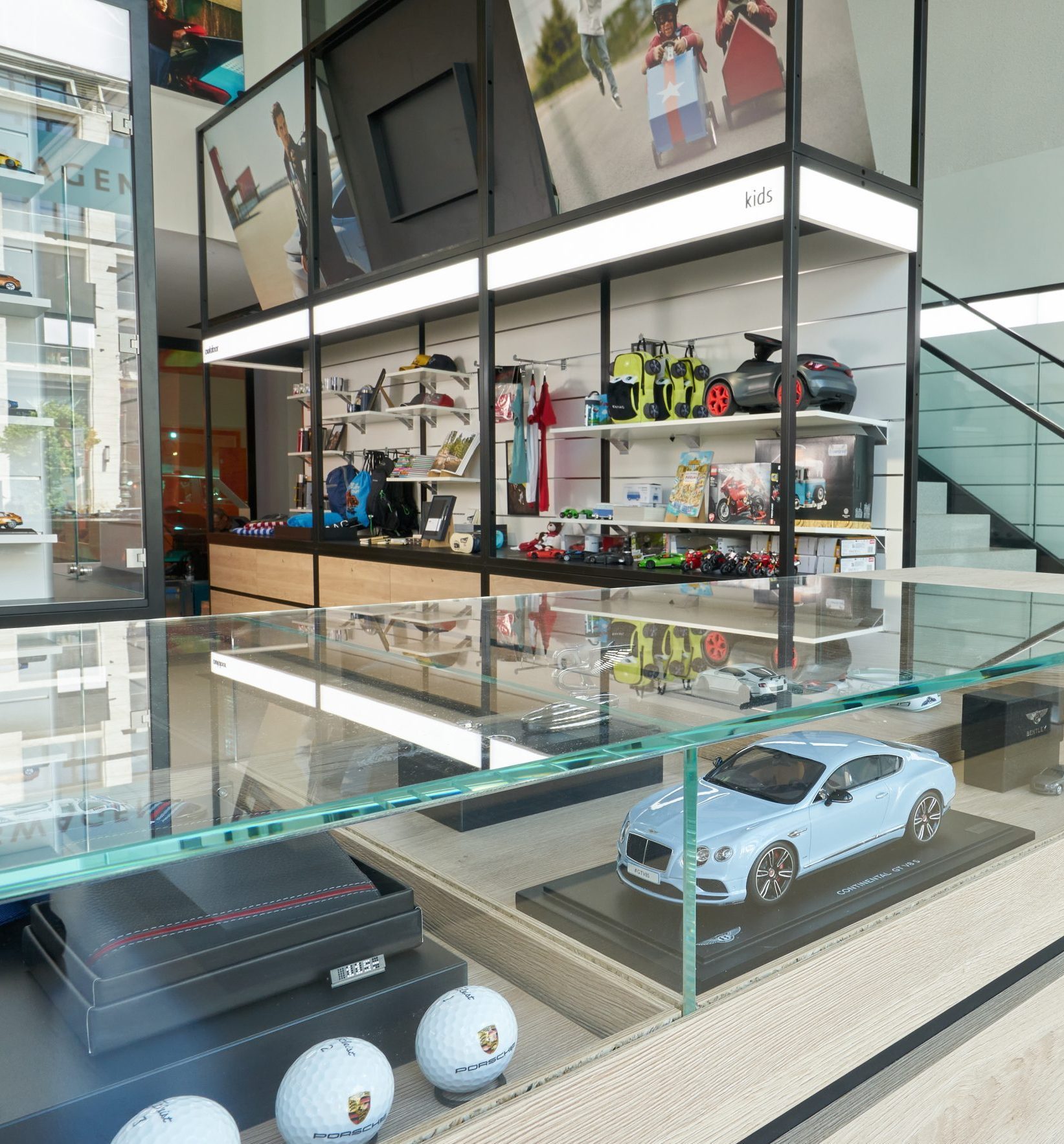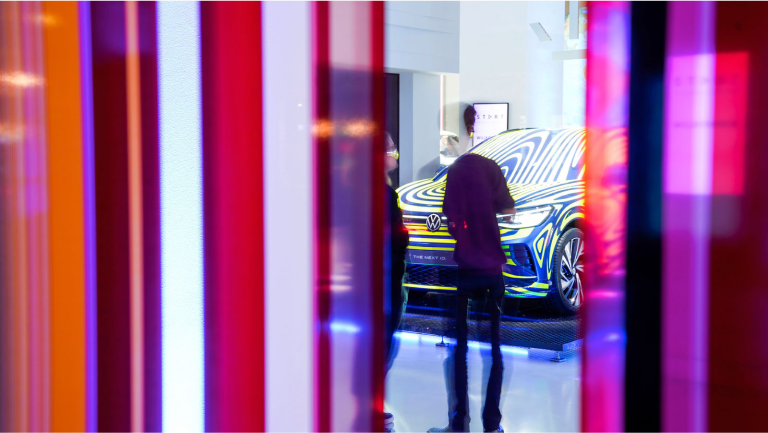 03
Discover the amazing world of mobility in our exhibition space. And don't miss our special exhibitions and public events either. Discover. Get involved. Be amazed.
Leider sind nicht alle Fahrzeuge die auf Fotos unserer Website abgebildet sind, auch täglich in der Ausstellung zu sehen. Rückfragen zu den Ausstellungsfahrzeugen richten Sie bitte an: Telefon +49 (0)30 2092 1300, Mail: drive.info@volkswagen.de, Privacy Policy